Dr. Lavinia Chong's Newport Beach Mommy Makeover is a suite of procedures designed to help you address all of your concerns surrounding your post-pregnancy body. As a female plastic surgeon and mother, Dr. Chong understands that each woman's needs and concerns are unique. Your plan of care is developed and focused on three key aspects of care: making the correct diagnosis, excellent surgical technique, and careful follow-up.
What Is A Mommy Makeover?
Our Mommy Makeover procedure has helped many women rejuvenate their bodies after having a baby. For many Newport Beach women having children is one of the greatest joys of their lives, but the changes that the body goes through in the process of pregnancy, nursing, and childbirth aren't always changes women want to live with through the rest of their lives. 
Excess fat begins to appear as fat compartments in the abdomen, hips, and the thighs expand. These changes may weaken the abdominal wall resulting in abdominal musculofascial laxity (a looseness in the fascia and muscle tissue). Breast volume and position are challenged by gravity with breastfeeding often resulting in deflated, saggy breasts; and previously minimal breast asymmetry becomes magnified. Even with a regular routine of exercise and a healthy diet, it is not uncommon for the effects of pregnancy to linger.
"Dr. Chong and staff have provided superb care and follow up during my surgical experience. Aside from being an incredibly skilled surgeon who has the eye of an artist, Dr. Chong & her staff are friendly… skilled & so very compassionate. They listen. They care. They empower patients to be a better version of themselves at this moment in time." – T.S. (Patient since 2017)
Our Newport Beach Mommy Makeover is customized to meet each individual woman's unique needs and goals and may include some combination of the following: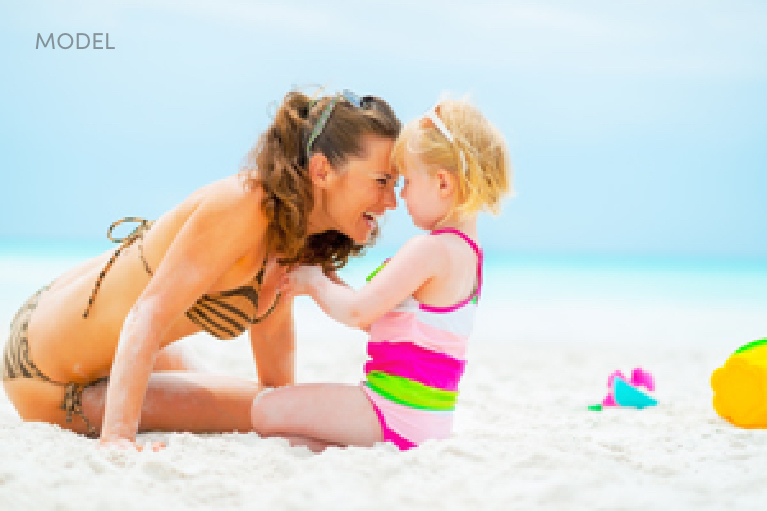 Breast Augmentation
Breast Augmentation with Lift
Lipoabdominoplasty
Breast Lift (Mastopexy)
Tummy Tuck
Breast procedures may include a breast lift (mastopexy) to restore pre-pregnancy perk and improve symmetry, or a breast reduction to reduce excess breast tissue resulting from breastfeeding. Breast augmentation is an option for those Newport Beach moms desiring breasts with a fuller, less deflated appearance. From saline breast implants to silicone breast implants, Dr. Chong and her staff will help you navigate the variety of implant styles to best help you achieve your desired look.
A tummy tuck (abdominoplasty) can help you restore your pre-pregnancy body. A tummy tuck with liposuction (lipoabdominoplasty) not only restores the integrity of the abdomen by repairing splayed abdominal muscles it also contours excess fat and redrapes skin excess. Dr. Chong appreciates that it can be difficult to talk to someone who is essentially a stranger about these more intimate areas of your body. As an active participant in your transformation, sharing your "problem" areas or current areas of dissatisfaction allows her to explore the procedures available to help you restore your pre-pregnancy body.
---
Is A Mommy Makeover Right For Me?
You don't have to be a Mommy to get a Mommy Makeover. Anyone can take advantage of the suite of surgical procedures. It has been suggested that the role of Plastic Surgery is to "restore that which time, age and infirmity have taken away". The services described within the Newport Beach Mommy Makeover are designed to improve changes that manifest in a woman's breast and trunk (abdomen, hips), which can also result as a part of the aging process.
How Can I Prepare For My Consultation?
Dr. Chong and her team of assistants (an all-female staff in Newport Beach) are interested in knowing about you as an individual as well as a prospective Mommy Makeover candidate.  Our responsibility to you is to produce safe and beautiful results. Medical conditions must be stable before choosing elective surgery and this includes plans for future pregnancies. 
When requesting to schedule your Mommy Makeover consultation in Newport Beach, please note that we advise consulting with us 3-6 months after delivery and/or after the cessation of lactation.  Losing baby "fat" and embracing a healthy lifestyle prior to your surgery will not only improve surgical results but also ensure the longevity of your results.  We are committed to your success and have a network of referral resources ranging from nutrition, exercise consultants as well as after-care recovery services.
"The entire staff is warm and welcoming. Doctor Chong is extremely knowledgeable. She is a true artist. She asks what you are wanting and does an amazing job delivering. I have recommended her to several friends and will continue to do so." – Patient from RealSelf
You are encouraged to bring photos to your consultation in Newport Beach. This would include photos of yourself prior to becoming a mom, as well as breast photos of looks you like and/or don't like. Do be explicit with your objectives (cleavage, fullness, projection, firmness, etc.). When selecting implants, there are different types of implants used to achieve different looks (saline vs. silicone, or less cohesive silicone vs. highly cohesive Gummy Bear implants). Deciding upon how much cleavage you desire, how much perk and fullness you desire, and the general shape and slope of your ideal breast can help Dr. Chong evaluate which implant would best achieve your goal. Reviewing images of what you deem attractive helps us to understand your aesthetic goals and serves as a point of discussion so that surgical options can be proposed, accepted, and realistic expectations nurtured.
---
What Can I Expect From Mommy Makeover Surgery?
Our Newport Beach facility affords you a streamlined experience as consultations, pre-op appointments, post-op appointments, and surgery are scheduled and performed on-site.  The office-based ambulatory surgical suite (ASC) has been accredited since 1996 by the Institute of Medical Quality, a subsidiary of the California Medical Association.  The facility is staffed by Board Certified Anesthesiologists, Registered Nurses, and Certified Scrub Technologists, who work collaboratively to care for the surgical patient according to the highest standards of safety and excellence. 
Two weeks prior to surgery, you will meet again with Dr. Chong and a member of her surgical team in Newport Beach. She will review your goals discussed during your consultation, and finalize your surgical plan. All aspects of pre-op and post-op care will be reviewed at this time. You are encouraged to bring a list of questions you may have, as well as any friends or family who may be taking care of you during your recovery. Your pre-op appointment is also the time at which a nasal culture and blood will be taken in a lab located within the same Newport Beach medical plaza. You will sign consents for surgery, provide a list of all medications and vitamin supplements, and be given prescriptions for post-op medications.
"Dr. Chong explains all options and answers questions thoroughly. She and her staff made me extremely comfortable. I would recommend her office to anyone nervous about going in to learn about plastic surgery options. – D.B. (Patient since 2013)
The evening before surgery, you will receive a phone call from Dr. Lavinia Chong and a member of her anesthesia team. On the morning of your surgery, please allow yourself plenty of time to arrive at our Newport Beach location and wear comfortable, loose-fitting clothing, preferably a zippered top.
Friends and family are welcome to wait for you in our Newport Beach reception area during surgery, or we can call them once we are in the process of transferring you to your recovery room following your Mommy Makeover surgery. Once you are in a waking stage, your friends/family are more than welcome to come back and sit with you in recovery. One of the many benefits of not having general anesthesia is that MAC sedation (monitored anesthesia care) allows for an easier transition to wake and recovery. Prior to discharge, all aspects of post-op care will be reviewed with both you and your friend/family member.
Please note, while you are permitted to Uber or take a cab the morning of your appointment, you are required to be picked up by a friend or family member following your surgery.
---
What Is The Recovery From Mommy Makeover Like?
At the time of your pre-op appointment, we will review the dates and times of post-op and follow-up appointments for the days immediately following your surgery. Please be sure that you make transportation arrangements prior to your surgery date and notify us as soon as possible of any potential scheduling conflicts. For your safety, we do not advise using Uber or paid ride services while you are taking pain medication immediately following your surgery.
You may feel tired and sore for several days. Post-op medications, bowel programs, activity schedule, use of ice, massage techniques, and scar therapy will be discussed during your post-operative visits. Options for extended warranty of breast implants will be reviewed at your follow-up appointment. All patients are encouraged to contact our Newport Beach office with any questions or concerns at any point during their recovery.
---
Mommy Makeover FAQs
---